I could not have known, when I first began working at Congregation Rodeph Sholom as a second-year rabbinic student, just how much my experiences there would shape the many years after – even up until today.
Initially, I taught fourth grade – but we quickly all agreed that this was, perhaps, not my forte. The next year, I began working with high school students, a much better fit, and was later asked to start to reimagine the Introduction to Judaism and Conversion experiences for our adult students.
Each of these moments along the way allowed me to work with the inimitable Jo Kay. A teacher above all else, she was my guide as I gently dipped my first toes into conversations with people who wanted, more than anything, to learn about what it meant to be a Jew. Jo's early lesson plans, hours-long conversations, and advice about how to teach to the learning styles of my students are all gifts I still hold dear. Her encouragement (along with that of the clergy at the synagogue) to create a real, foundational process for conversion and learning at the synagogue also introduced me to the hunger our students had for significant opportunities to learn in a deliberate and thoughtful way. They wanted to learn experientially, philosophically, spiritually – and were clear that they also wanted text.
Many of my students over the years – and yours, too, I imagine – had primarily known academic learning. This was their model for how to "know" something. Only after months of being together did they acknowledge that the "doing" was as much a part of the "knowing" as the reading and studying.
But the reading, I also came to learn, cannot be underestimated.
Eventually I was directed to Dru Greenwood at the (then) UAHC, one of the great heroes of our Reform Movement when it came to reaching out, bringing in, and teaching and learning along the way. Dru introduced me to the many books at our disposal as teachers of Introduction To Judaism.
Back then, in the late 1990s, we had a good library from which to choose, but to some extent, we still had to piece together a syllabus– a bit from this book, a bit from that. The gift of the first edition of the UAHC's Introduction To Judaism Sourcebook with its parallel teacher's guide was, for lack of a better phrase, a Godsend, allowing those of us who were teaching to gather many resources all in one place.
But time marches on, and books change hands. With a shift of ownership of the material from URJ Press, our Introduction to Judaism Sourcebooks were taken off the shelf. The loss of our old book was difficult – teachers had to fall back to the piecemeal practice they had not needed for quite some time
After having spent so much time reading and learning with my students, and in a new role with the URJ myself, I was privileged to learn once again. Rabbi Hara Person and I had breakfast one day, and together, we lamented the loss of our old book. It turned out that, while at the URJ we had been talking about a new kind of book, similar conversations were being had over at the CCAR. We realized that this was a real opportunity.
The basis for a new book – for new students – would be a trove of outstanding clergy resources that already exist in the CCAR Press paired with the on-the-ground knowledge shared by many of our Introduction to Judaism class coordinators and teachers throughout the URJ. The hope of a new resource, one that could now include so many of our newer texts, combined with corollary references to text from TaNaKH and rabbinic writing, was a very exciting prospect.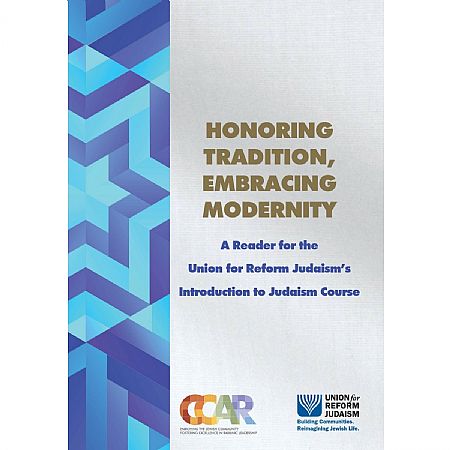 It became clear that the book could align with one of the new Introduction to Judaism Course Outlines the URJ was creating, giving teachers even more resources to use while still employing the same methods we'd been taught over the years. This book, edited by Rabbi Beth Lieberman, would allow us to teach to the style of our learners who wanted the experiential, the philosophical, and the spiritual. It would enable us to teach the learners who don't know what to ask, as well as those who think they have no more to learn.
In the end, a new book was created – and it even has a new name. We at the URJ and CCAR Press are thrilled to introduce Honoring Tradition, Embracing Modernity: A Reader for the Union for Reform Judaism's Introduction to Judaism Course. Designed for use with the Union for Judaism's Introduction to Judaism classes, this sourcebook is for readers who seek to deepen their knowledge of Judaism's wisdom, practices, beliefs, customs, people, and history.
This was such an exciting project of which to be a part. The relatively few suggestions our team at the URJ made at each step along the way pointed even more strongly to the strength of the team at the CCAR.
Having worked on this project, it now feels as though months of work and discussion, thought and arguments for the sake of heaven, learning, shifting, and being excited about new discoveries, have all culminated in a wonderful new part of our community being introduced for the very first time. It may seem earnest or dramatic to say that this new book and its introduction feels like welcoming a new Jew into our community – but that is indeed exactly how it feels.
—
Rabbi Leora Kaye is the director of program for the Union for Reform Judaism.  
Leora was privileged to work with URJ colleagues April Baskin (URJ Vice President of Audacious Hospitality)  and Frieda Hershman Huberman (URJ Manager of Introduction To Judaism) on  the creation of Honoring Tradition, Embracing Modernity.